If you have expensive items and other valuables such as cash, jewelry, furs, collectibles, and documents, you will need a place where you can keep them safe. It is crucial to store these valuables away from thieves and damage. One of the best ways to protect your valuables and have access to them is to install personal safes for home use.
The many advantages to installing a home safe with City Safe and Vaults LLC are the added security and protection. You will have peace of mind knowing that your valuable items will be kept safe from burglars and anyone you might invite into your home. It can keep your valuables safe, and they will always be available when you need them.
Benefits Of Getting Personal Safes At Home
Safes come in a wide variety. All of them have the same function, to protect the content. If you are particular about your home's security, having the best home safes is an added step in protecting your valuables, no matter the circumstances.
An assortment of home safes includes particular parameters. It depends on the structure and interior design of your house. There are several advantages to purchasing a safe for your home.
Most home safes are beneficial in terms of:
Home Safety Improvement – It might be one of the many common reasons why homeowners purchase a safe for their homes and facilities. It helps put your mind at ease if you keep an expensive item or other essential valuables that are irreplaceable.
Security Of Valuables and Documents – Most homeowners realize that keeping valuables and other necessary documents is essential. It is fundamental to maintain a safe to store these important documents and is a lifetime medium of security.
Peace Of Mind – It is priceless to get a good night's sleep knowing that your valuables and other expensive items are protected and stored somewhere safe from thieves, fire damage, or anything else that could cause harm to it.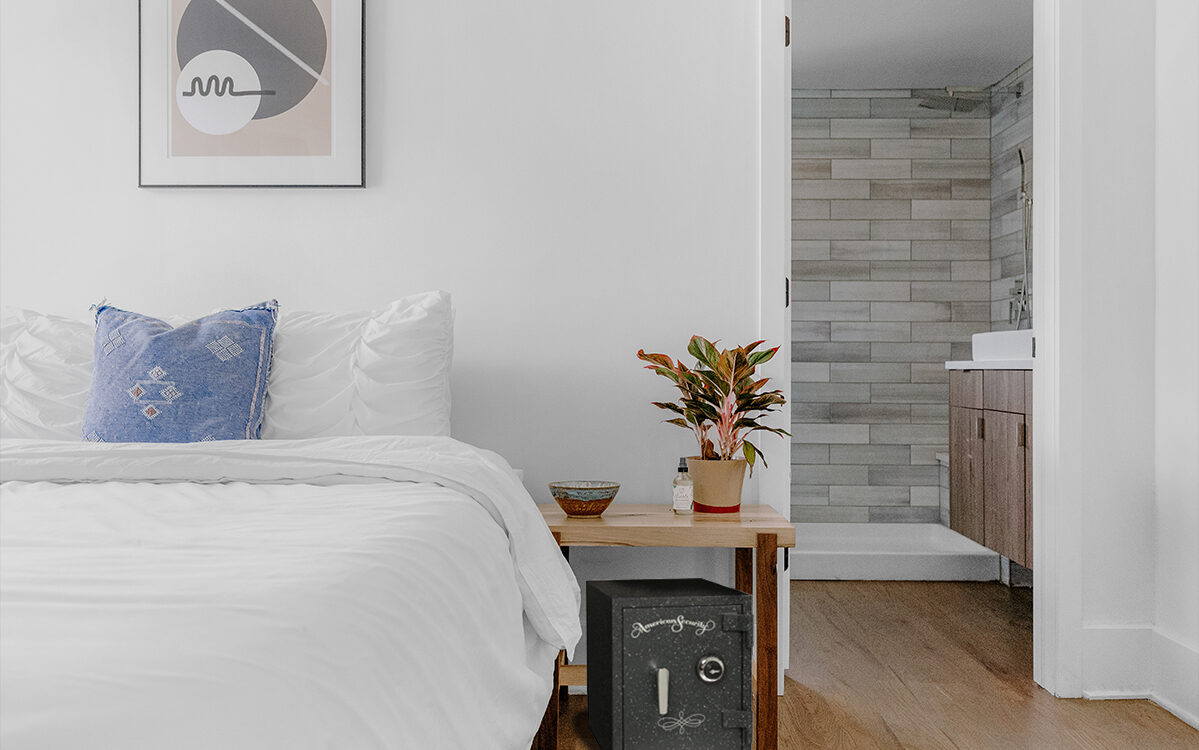 What Are The Things That You Can Store In It?
Keeping a home safe now might prove a lot more cost-effective. Below are selections of the items and other valuables that most people have lying around the house but could cost a lot of time and money to replace. Replacing all these items could take a lot more time than installing a safe, and you might end up dealing with the hassle of insurance companies.
Here are some of the objects stored in a home safe:
Cash

Even if it is an apparent item to store in a safe, it is still advisable for many reasons. Keeping cash in a safe will keep you protected from unforeseen occurrences. Cash is vulnerable to water, fire, and theft, making it a smart choice to store in a safe. In any future emergency, keeping your cash in a safe might save you from many unexpected hassles.
Laptops

A laptop may contain documents, personal information, passwords, photos, and work-related information. These are the things that are usually considered irreplaceable. It could cause hassle if your laptop gets stolen or damaged. Aside from that, laptops are rarely inexpensive and are considered an investment, and keeping a home floor safe will help you with protection.
Heirlooms

There's a very high personal value attached to family heirlooms. These are usually irreplaceable and expensive as they are passed from different generations. Family mementos are unique objects that are irreplaceable. Keeping a safe can be a form of protection from time and disaster.
Passports, Title Deeds, Insurance Documents

Not only are these pricey to replace, but it's very unwise to let a personal document with your vital information fall into the wrong hands. From car and home to personal cover, these documents can contain private data for a thief to steal your identity.

These items are again at risk from fire and the sticky hands of children. If you did suffer a fire or burglary, the first thing you'll want to hand in is your insurance details.
Birth Certificates, Wills, Medication

It is one example of a precious document that can be difficult to replace. It is especially true of older certificates. These are probably the most quintessential documents to keep as the contents can be susceptible.

Depending on your law firm, getting new copies can be laborious and pricey. A fire safe might be a good choice for protecting papers like these.
Diamonds and Other Jewelry

These might be expensive items of jewelry, such as a diamond wedding ring or a jewel-encrusted necklace, or maybe you have loose diamonds kicking around like a Bond villain. Either way, these are not something to hide just anywhere. A floor safe is essential for keeping precious gems secure. You do not want to lose them anywhere or in the wrong hands.
Guns

Gun safety is fundamental, and all firearms should be stored in wide storage, some locked gun cabinet, or a safe. This is not something you want access to just anyone. Safes can be bought for this sole purpose, or a handgun will fit in any small safe.
Other Factors To Consider When Purchasing A Home Safe
Aside from the benefits and other advantages of purchasing a safe, there are still other things you need to know about personal home safes. It is only right to be aware of the things to expect before purchasing or installing a safe for your home, and these are the following:
Size or Capacity of the Safe – It is crucial to know the size and capacity of the safe know the limitation of what you can store in your safe. You might purchase a small safe but need to store items more than its capacity.
Final Placement of the Safe – It is essential to finalize the space you will be placing your home safe to make sure you are utilizing your space well or if it fits your preferred area. It is also essential to take an expert consultation as a basis for this factor.
Type and Degree of Protection – You might wonder why it is essential to know the type of protection you need. This is because home safes have different types and functions. The different kinds protect you from many other situations as well.
The Price of the Safe – This is essential if you are on a budget. It is also good to purchase a safe smartly, and knowing the price range before purchasing could take you to any advantage.
Experience The Best Local Security Solutions and Services
Delivering exceptional services to enhance your security, City Safe and Vault LLC is a trusted and expert Safe and Vault service in New York City. We align with industry leaders providing our customers with quality guarantees and the best products for personal safes for home use.
Fully qualified technicians are experienced and skilled in addressing security requirements. We offer assistance for residential and commercial purposes, including emergency lockouts, safe lock upgrades, combination changes, safe repair and troubleshooting, new safe installations, and more. Call (212) 729-1375 for immediate service!